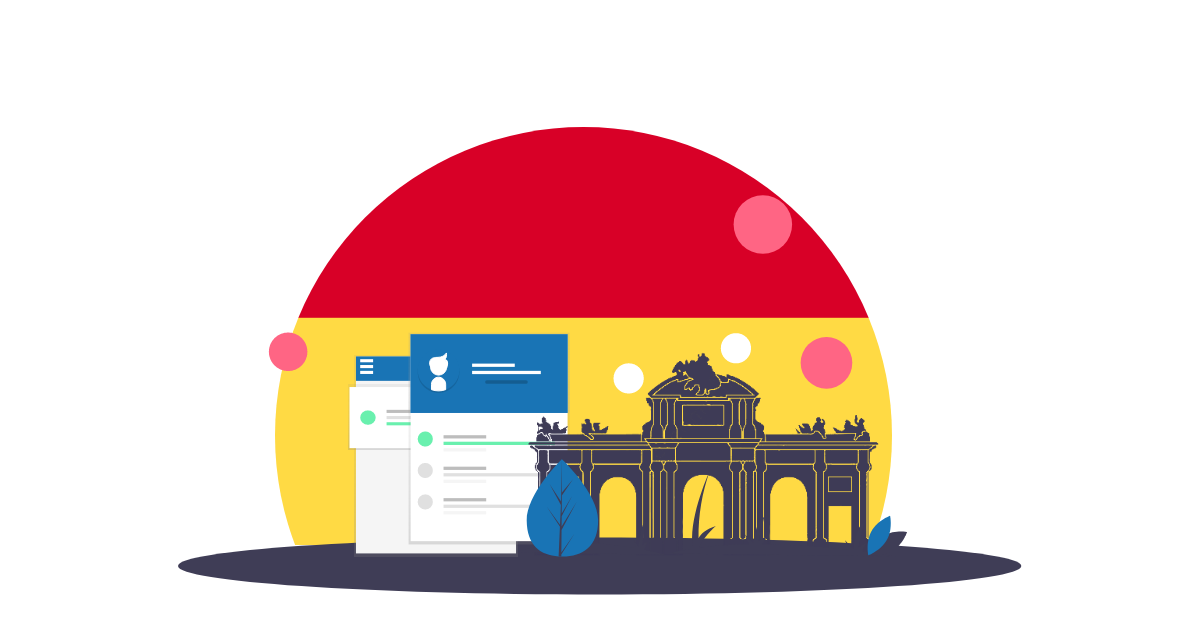 Plan on moving to the sunny land of Spain?
If so, coming to grips with all the formalities, concerning your residency status is one of the first things you should deal with. Generally, it is much easier for EU citizens to obtain a permanent residency in Spain, while for non-EU nationals the process may be a little more complicated and lengthy.
In this blog post, we will cover all the essentials for working and living in Spain as an EU national, from applying for NIE to obtaining permanent residency. Let's dive straight in!
Registration with the Foreigner's Office
If you are residing in a country which is a member of the European Union, you do not need to apply for a visa or a work permit to study, work or live in Spain. All that is required to move to Spain and take a new job there is to hold a valid national ID card or passport. An important thing to note here is that you can freely stay in the country for a period of up to 3 months. Yet, you'll need to register your presence with the Central Register of Foreigners (Registro Central de Extranjeros) within the first 3 months of your arrival in the country.
The registration at the Foreigner's office can be completed in the local office in the province you're living, as well as in the local police station. You may find the full list of documents you'll need to bring here.
Obtaining a NIE
An equivalent of the tax identification number in Spain, the NIE (Número de Identificación Extranjero) number is obligatory for all foreigners who plan on carrying out legal and financial activities in Spain. For example, you'll need a NIE if you want to open a local bank account, to buy property, arrange utilities, register a business and more.
You can apply for your NIE number once you've moved to Spain and in the relevant Spanish National Police Station, or you can also submit your application in the Spanish embassy in your home country. Click here to find the full list with requirements and documents.
Registering with the Local Authorities
Everyone who is moving to Spain for work, retirement or simply to enjoy the bohemian, free-spirited way of living, is required to register with the Municipal Registry, known as Padron Municipal. To do that, you will need to present:
Personal details, including full name, place of residence, date and place of birth and nationality

ID card/ residence card

NIE

Copy of your rental contract

A recent utility bill in your name
The requirements may vary as some Spanish regions are autonomous and have their own procedures in place. For example, some may allow you to register online, while others would ask you to visit the office and provide the required documents in person, so be sure to check this in advance.
How to obtain Social Security Number in Spain
It is relatively easy to obtain a social security number, which guarantees access to the Spanish healthcare system. To apply for a social security number, you should fill out a TA-1 form and provide your ID/passport, rental or employment contract and NIE if such is available. Make sure to prepare the above-mentioned documentation and bring at least 2 photocopies of each document in the Tesorería de la Seguridad Social. You can find a list of all offices here.
Applying for Permanent Residency
As a rule, EU residents qualify for a permanent residency in Spain after having lived in the country for 5 years, given they haven't lived outside the Spanish boundaries for 2 consecutive years. By becoming a permanent resident, you will have the same rights as the Spanish citizens, meaning that you can stay in the country indefinitely, work freely and move to other regions. The best part is that you can enjoy all of the benefits of living in Spain while keeping your nationality and passport. So, now you understand why it is a good idea to obtain an official document that can prove your rights as a permanent resident. Generally, you automatically become a permanent resident in 5-year period, but to be able to obtain an official document, you'll need to check off the requirements below:
– you'll need to present a document, proving that you have legally worked in Spain for the last 5 years
– you'll need your registration certificate issued upon your arrival in Spain
– you will be required to provide other documents, such as utility bills or rental contract to prove that you've been living in the country for the last 5 years
– you'll need to be able to support yourself and your family financially and show evidence of your earnings
– you may need or provide proof of public or private healthcare insurance
Official resources that you may find useful