Load & Go, our low– cost transport only service
The most important thing to remember with Load & Go is that each of our vans comes with one driver only
Our Load & Go service is aimed towards customers who are happy to do all of the loading and unloading themselves, this is a great way to save money if you are able to bring everything you have out to the van or if you have lots of friends and family to help out for larger house removals. Our approved driver will assist to stack and strap the goods onto the van. It is worth remembering that it is both the responsibility of the customer and the driver to stack and secure the load.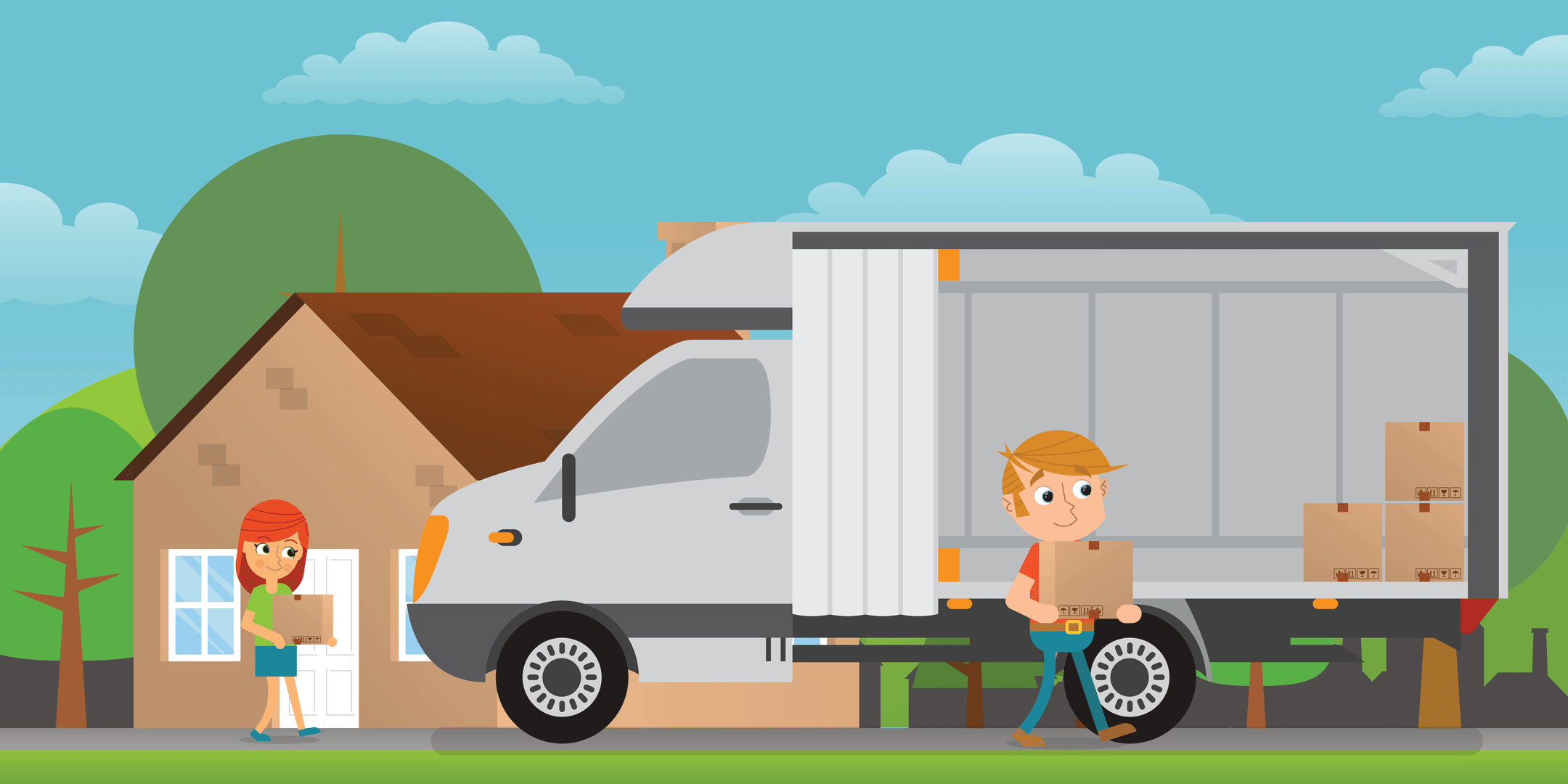 Load & Go: Loading / Unloading
Our driver will provide assistance to stack and secure the load on the back of the van only
Please understand that to keep the costs to a minimum we only supply one driver per van. You must, therefore, supply an adequate workforce of friends and/or family at both ends of your move. The number of people required depends on the nature, volume and weight of your items. Boxes can easily be handled by one person if you kept the weight under 20 kg; A sofa requires a minimum of two persons and a large wardrobe a total of four extra persons. In general, for a full van, we consider that at least two people are required, three or four is ideal. Remember you know your household items better than we do.
For smaller part loads of 10 to 20 boxes it is possible for 1 person to do all of the loading and unloading alone. Please remember when booking our Load & Go service the driver will assist only to stack and secure the goods on the back of the van
Load & Go: Loading/Unloading times
Dedicated Van Service – Full Load
Loading times – 5 hours
Unloading times – 3 hours
Part-Load Service
Loading times – 2-3 hours
Unloading times – 1-2 hours
Load & Go: Collection and delivery dates and times
Dedicated Van Service – Full Load
When you have booked a dedicated van on our Load & Go service, you can choose a collection day of your choice Monday to Saturday and the delivery will be direct, the transit time of the journey will depend on the distance. If your delivery day is more important, speak with your move coordinator who will be able to advise you on the best possible collection day to accommodate this.
You can change the chosen date for your collection up to 3 days before without incurring any fees. However, should you need to change it less than 3 days before collection extra fees may apply.
You will have sole use of the van and will not be sharing the space with other customers goods. You can use the space and weight allowance of 20m3 or 1 tonne (full van) as you desire. Please remember that the van can carry a maximum capacity of 20m3 or 1 tonne, either or, whichever is reached first.
For Norway, Switzerland and Austria the weight is limited to 800kgs for a full load
You can choose a morning or afternoon time slot, mornings are between 8am-12pm and afternoons are between 12pm–4pm (UK time). Due to the nature of the business delays can sometimes occur, therefore we do not give out specific times for collection or delivery. Any times that are given to you are done so in good faith.
Please make allowances for potential delays as some issues cannot be avoided, for example, traffic or mechanical problems. We do not compensate for late collections or deliveries.
Part-load Service
We require a 3 working day window for collection. We don't expect you to stay in during this time and will aim to give you a minimum of 24hrs notice, however if we do have space available on one of our vans in your area on that day we may give you a call to offer you this option too.
We do require someone to be available between the hours of 8am -6pm (UK time), please also bear in mind that delays can sometimes occur due to the multiple collections and deliveries. If the driver is severely delayed, we may postpone your collection until the following morning.
We do not compensate for late collections or deliveries.
Delivery for part loads is generally anything between 1 day and 14 days depending on the route. Someone must be available to take delivery from the earliest possible date. Whilst we will always endeavour to send your goods direct, we may bring them to our storage depot for groupage with other loads going in the same direction, your move coordinator will inform you of this when confirming your collection date.
However, if you do not have the flexibility required for your collection and delivery dates you may wish to consider a dedicated van (full load). It will still probably work out cheaper than most of our competition.
Load & Go: Inventory
We kindly ask that you provide a copy of your inventory to your move coordinator 3-5 days prior to collection so that they can help to establish and confirm the cubic capacity.
Please remember that it is impossible for us to estimate the weight.
You will also need to print two copies of the inventory in paper format ready for the day of collection. You, or your representative will need to check your goods on and off the van against this inventory together with the driver. One copy is for you to keep and one copy is for the driver, both of whom should sign each inventory on collection and delivery.
Please note: If you wish to send your goods without an inventory, then this is done so entirely at your own risk.
Customs may also ask to see a list should they stop the van at a border.
Please read our movers guide for other helpful tips.
Load & Go: Load volume and weight
Our 3.5 tonne luton vans have the same weight capacity as most of the other vehicles of this type in the transport business. The biggest consideration when moving your goods needs to be the weight. Our luton vans can carry between 20m3-24m3 in volume with a 1000kgs payload (800 kg in some countries, like Switzerland, Norway and Austria). The weight limit remains the same regardless of whether the van is 20m3 or 24m3.
Your booking will always be based on either cubic capacity OR weight – whichever is reached first.
It is worth considering that if you have many boxes each weighing 20kgs you will only be able to get 50 boxes on the van before the weight limit is reached. This will mean that although your van may only be half full in volume it will be at the full weight capacity. It cannot legally take any more than this.
Please note: Although most of our vans do not have a tail-lift, we may be able to supply you with one for an additional fee and subject to availability. Be aware though that the hydraulics reduce the maximum weight by another 250 kg (it doesn't affect the volume).
Load & Go: Packing
All goods must be adequately packed and protected prior to collection. The vans do not carry any moving blankets and/or loading equipment.
Please see our Movers Guide, and more specifically our packing tips.
Do not forget to read our Insurance page