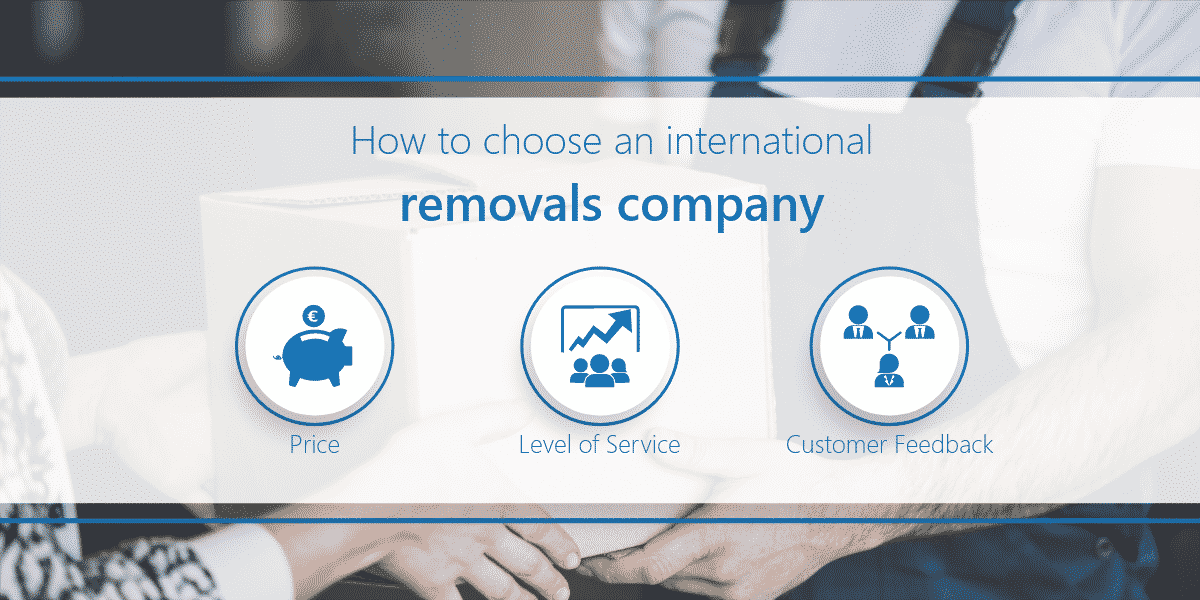 When the time comes for you to make the move to a different country you want to ensure that every aspect of the moving process runs smoothly. You don't want the worry of packing, loading, transporting and unloading to add to everything else that you have going on. What you need is a moving company that you can rely on to remove all the stress and worry from you.
When all of the final plans have been made and you know exactly when you are moving, you will need to choose someone reliable that can help you. This will involve shopping around and finding an international removals company that best suits your requirements.
It is important to consider exactly what you need and what will make life easier for you because let's face it, you already have enough to think about.
Consider the following when choosing a removals company:
• How much it will cost and what your budget is
• The level of service that you require – will you need help with packing and unpacking?
• When you need your furniture or belongings to arrive
• Who will be there to give the removal men access to the property
• If you need any storage facilities for things you are not taking to your new property
• Do you have any large or obscure items that you are taking with you on your move? These items might need to be lifted using special equipment.
Get three separate quotes
As with anything it is worth getting three separate quotes. How will you know if the quote is competitive if you only have one? By having more than one removals company provide a quote for you, you will be able to compare the levels of service provided and choose the one that suits you the best.
Choose the level of service that you require
You may not have much to move but too much to fit into a car. International moving companies also offer part loads as they are often moving in and around Europe making more than one delivery. You may be happy to pack yourself and just need your furniture transported or you may want someone that packs, load, and transport and unload into your new home the other end. A good international removals company will be able to offer the removal service that suits you.
Clarify what is included in your package
If you have opted for just a transportation service then you will probably be expected to pack so that everything is ready to be loaded – will this mean that it will be unloaded kerbside at the other end? If you are expecting your goods to be taken to the correct rooms of your new house then make sure that this is specified when you choose your service. You don't want to arrive to find your furniture's has been left on the side of the road.
Make sure you co-ordinate your dates properly
You don't want your furniture to arrive when there is no-one there to receive it, neither do you want it to arrive days after you arrive so make sure that you co-ordinate your dates. Maybe you are going ahead of your family to try and get things set up ready for their arrival in which case you may be able to stay in a hotel for a day or two whilst you get organized. If you don't have this luxury you need to ensure that you can manage between the furniture leaving your old house and arriving at the new house.
You also need to allow for unmitigated circumstances – delays do unfortunately happen due to factors such as an accident that closes a major route or a problem with ferry crossings.
Do you have anything obscure that needs shipping?
If you are worrying about how to move a jet-ski or motorbike then panic not. A good international removals company will be used to the transportation of large goods and will be able to assist you and make sure that your objects are securely transported to their new home. Again, this is something you should consider when asking for quotes to ensure that this is a service that is offered.
Storage requirements
If you are unable to take all of your belongings with you (including the jet-ski) and you need somewhere to securely store your goods then make sure that you choose a company that can offer a fixed term or long term storage facility that is dry, protected and secure. It may be that you haven't yet arranged your accommodation and need your goods stored in the interim until they can be transported. It is so important that you list the services of a reputable company that can take care of as much or as little as you need and that they have extensive experience when it comes to international moves.
At European Moving, we have helped thousands of people to make their international house move.
We provide part and full-load international removals suited to your specific needs and requirements. You can get your free, no-obligation quote by filling out a short form at europeanmoving.co.uk. It takes just a minute.