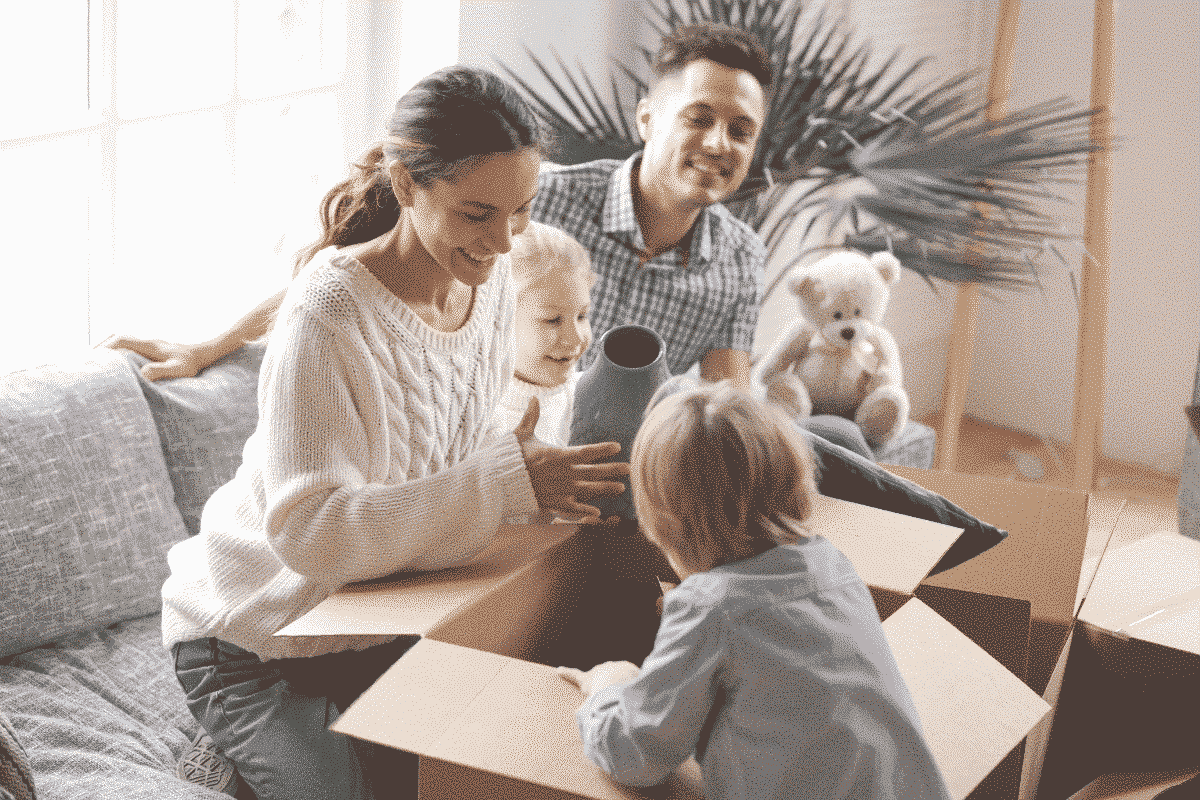 Moving is considered to be one of the most stressful life events for adults, let alone children. For kids, moving home means leaving everything they're familiar with behind – school, neighbourhood , friends, etc. This makes it really hard for them and they may need some extra attention and help to cope with the stress of moving to a new place.
The tips below will help you make moving with children a little easier, so let's dive straight in.
Be positive and excited
Children pick up on other people's emotions, especially fear and anxiety. If you're feeling stressed about moving home and you're complaining a lot, chances are they will pick up on your negative emotions. Children are always listening and understand more than we think, therefore it's important to let them hear things that you're excited about, not things you dread about your upcoming move.
Make it fun
Moving house is not fun, we know that. It's stressful and hard but with little effort, you can turn it into a big family adventure. Show your kids the bright side of moving to a new place – they will get the chance to make lots of new friends, to explore unknown places and to decorate their new room.
Make it into a game and show them around the new neighborhood by exploring all the places that they'll love – parks, playgrounds, cinemas and the local sport centre.
Take them to your new home prior to your moving day
Bringing your children with you when visiting your new home is a great idea which will make the move smoother and easier. Being part of the process will help your kids to feel important and the fear of moving to a new place will. Talk to them about their feelings and considerations and explain what they can expect during the move. Sharing creates a sense of belonging early on and you will be surprised how many things they have to say about their new home.
Pack a box with their favourite things
Along with packing an essentials box with all the necessities for the first night in your new home, you should consider packing a special survival box for your little one. It should contain all things your children cannot do without such as favourite toys, books and games. You can even let them pack this box themselves to keep them busy. And if you want to give them a task to keep them busy whilst you are packing, you can ask your little one to decorate the box and draw on it – it's all part of making it fun and relevant to your child's interests.
Get them involved
Most people tend to not involve their children in the moving process as it can seem stressful, so often family and friends are asked to look after them on the day of the move.
However, young children are curious little creatures and involving them in as many aspects of your move as possible will be beneficial to everyone. Being part of the process will teach them discipline so ask them to help you with organising boxes or help out with wrapping small things in bubble wrap. They'll be happy to be around you and will turn the whole experience into a game.
Let them make decisions
Another great way to help your kids adjust to their new life and home is by allowing them to make some decisions. Your new home is their home too so let them have a say in how to decorate their room and where to put their bed. They can pick the colour of their bedroom or you can take them with you to shop for furniture. Decisions like these will make them feel included and excited about the move.
Settle them in first
Once the removal van pulls away and you've finished with unloading your stuff, it's important to settle your children down as quickly as possible. This is where the special box comes in to play – getting familiar items out of it will help your kids adjust more easily to their new surroundings.
Moving home is not easy in general, neither for adults or children.
If you need professional help with your house move, remember that we are here to help! Our team of move coordinators have years of experience and can help you plan every little detail, making your house move smoother and easier for both you and your kids.
Image by: yanalya / Freepik